Vought F-8 CrusaderEdit
The Vought F-8 Crusader (originally F8U) was a single-engine carrier-based air superiority jet aircraft built by Vought for the United States Navy and the U.S. Marine Corps, replacing the Vought F7U Cutlass. The first F-8 prototype was ready for flight in February 1955, and was the last American fighter with guns as the primary weapon, principally serving in the Vietnam War.
F-8C CrusaderEdit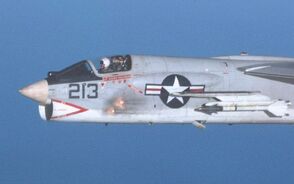 J57-P-16 engine with 16,900 lbf (75 kN) of afterburning thrust, ventral fins added under the rear fuselage in an attempt to rectify yaw instability, Y-shaped chin pylons allowing two Sidewinder missiles on each side of the fuselage, AN/APQ-83 radar retrofitted during later upgrades. First flight 20 August 1957, 187 built. This variant was sometimes referred to as Crusader II.
Tech Level: 4
Damage Base: 16
Min./Max. Airspeed: 3/19
Maneuver (Loaded): 3 (3)
Aerobatic (Loaded): 0 (0)
Defence (Loaded): 14 (13)
Climb Rate (Loaded): 1 (1)
Shallow/Steep/Power/Vertical Dives: 1/3/4/6
Operational Ceiling: 10
Stores External/Pylon/Internal: 2/2/0
Guns: 4x20mm Cannon
Cost: 400
Maintenance Cost: 48
F-8D CrusaderEdit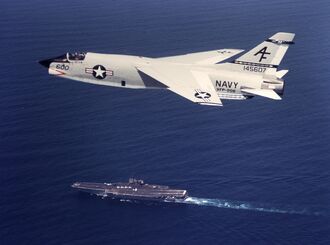 The all-weather version. Unguided rocket pack replaced with an additional fuel tank, J57-P-20 engine with 18,000 lbf (80 kN) of afterburning thrust, landing system which automatically maintained present airspeed during approach, incorporation of AN/APQ-84 radar. First flight 16 February 1960, 152 built.
Tech Level: 4
Damage Base: 18
Min./Max. Airspeed: 3/21
Maneuver (Loaded): 4 (4)
Aerobatic (Loaded): -1 (-1)
Defence (Loaded): 13 (13)
Climb Rate (Loaded): 1 (1)
Shallow/Steep/Power/Vertical Dives: 2/3/5/6
Operational Ceiling: 10
Stores External/Pylon/Internal: 0/4/0
Guns: 4x20mm Cannon
Cost: 432
Maintenance Cost: 52
Voodoo Scuttlebutt
Edit
"Dietrich was always taken by the idea that his own Crusader was haunted, or that it had some kind of machine spirit inhabiting it. I used to catch him talking to it when he thought he was alone." - David "Uno" Peled